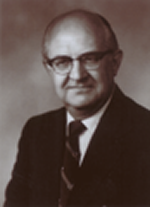 A nationally recognized musician and educator, Mr. Snider worked to increase the number and excellence of bands at the university and across the state. He co-founded the Nebraska State Bandmasters Association and the Nebraska Marching Band Festival, this being the nation's largest indoor marching band competition. The Nebraska State Bandmasters Association honors him with the "Jack Snider Young Band Directors Award."
One of the first innovations that Mr. Snider made with the marching band was a definite crowd-pleaser. He added the position of Solo Twirler to the band. This position was started in the year 1961, with the first twirler being the "Golden Girl", Joyce Burns.
Coach Bob Devaney came to the Nebraska campus in 1962, shortly after Jack Snider took control of the marching band. Devaney turned the Huskers into a national football powerhouse. The Huskers had managed two bowl trips prior to the Devaney era, the first to the 1941 Rose Bowl and the second to the 1955 Orange Bowl.
In 1974, the marching band toured Europe, giving concerts in Switzerland, Austria, Germany, the Netherlands, Belgium and England. Such exposure brought national recognition to the Nebraska band and attracted students from all over the country. This exposure also extended to the concert program which began to tour throughout the Midwest on a regular basis under Jack Snider's direction. The concert ensembles also began to receive prestigious performance invitations including the 1983 Bandmaster Association's annual convention in Kansas City.
This award was established by the NSBA executive board in honor of the 25th anniversary of the Association. Young directors from all geographic areas of Nebraska will be considered, with the possibility that several directors will receive the award. Nominees must be current members of NSBA, presently teaching in Nebraska, and in their third through seventh year of teaching. Nominations are requested from college directors, student teaching supervisors, school administrators, fellow directors, students or their parents. Click here to print an application blank. Deadline December 15, 2013.
1986
Byron Braasch
Bill Kellett
Dan Ehly
Sharon Klein
Jeff James
Diane Pendrock Diffey
1987
Kathy Dalby
Don Krysl
Norman Edwards
Dick Moore
Dave Klein
1988
Brian Anderson
Bob Krueger
Charlene Brown
Ron Smith
Tracy Briggs
---
1989
Daryl Jessen
Jon Weidner
Mary Tarleton
1990
Pat Fortney
Richard Philson
Curtis Forsch
Cathy Ludgate
1991
Jacque Rush
Steve Steager
---
1992
Eric Fahrlander
Karen Murphy
Diane Lewis
Matt Sheppard
Robert Lyons
1993
Jim Kordik
Frank James Kucera
Barb Mock
Chris Tucker
1994
Paul R. Gausman
Teresa Schnoor
Michael A. Koch
Brian Walker
Neal Schnoor
Andy Sorensen
---
1995
John Franssen
Lance Nielsen
Tom Hanson
John Winter
Shane Macklin
1996
Susan Saker
John Roebke
J. Samuel Zitek
1997
Jeff Fahrlander
---
1998
Kevin Koopmann
Doug Hauserman
Jed O'Leary
Nolan Schmit
Dwight Rose
1999
Mark Irvin
Kate Bergman
Gregory Bergman
Jennene Puchalla
2000
Aaron Svoboda
Kim Wiedeman
Nicole DiGiovanni
---
2001
Christopher Johnson
Gail Carpenter Johnson
Ron Hardin
Dan Sodomka
2002
Mark Revell
Chad Scharff
2003
Brian Alber
Michael Sindt
Rebecca Wilhelm
---
2004
Darren Myers
Sandra Murphy
Brady Rohlfs
Todd Cook
2005
Nate Auman
John Schultz
Andy Walters
2006
None
---
2007
Nate Metschke
Michael Schlake
2008
John Furrow
2009
Kyle Haugen
Jonathan Jaworski
Andrew Johnson
Katie McCormick
Sarah Stratton
---
2010
Joshua Austin
Brandi Greenfelder
Michael Pollock
2011
Nicole Csipkes
Shawn Oakes
Erin Poe
Misty Prochazka
Alex Wimmer
2012
Spencer Hansen
Joseph Homan
Whitney Jones
Chiyo Kamada
Alyssa Wilhelm
---
2013
Nathan Beutler
Angela Nabower
2014
Matt Dregalla
Carrie Jensen
Brian Leisher
Andrew Norris
Marcus Price
Natalie Prokop
2015
Landon Barada
Teresa Ghormley
Ashely Leader
Shawn Pfanstiel
---
2016
Courtney Baker
Timothy Rischling
2017
Troy Ehmke
Samantha Hahn
Jill Stara
Benjamin Veileux
2018
Craig Mathis
Kristin Parent
---
2019
Chaz Fonda
Wade Howles
Tommy Krueger
Darren Lojo
Jeremy Murman
Alex Steinke
Matt Stubbs
2020
Amber Bock
Andrew Brown
Marques Eckhoff
Patrick Hunninghake
Zach Nathan
Hiltje Peitz
Gary Shuda
2021
Andrew Peters
Amanda Kenney
Josh Pace
---
2022
Haley Allen
Kaitlyn Carlson
Lauren R. Milbourn
Brian Nelsen
Stacey Sailors
Austin Sailors
Cassi Vallis
Nicole Shively