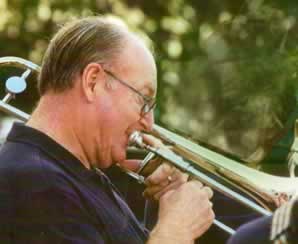 A life-long Nebraska educator, Rodney W. Schmidt, passed away suddenly on October 1, 2012 from acute myeloid leukemia at the Bellevue Medical Center. Rod and wife, Grace, graduated as music majors from the University of Nebraska- Lincoln in 1961 and were married 51 years. He also received his masters degree from UNL.
Rod attended Cook, Nebraska High School and after attending UNL began his career at Sterling Public Schools. Later teaching in Falls City and then moving to the Bellevue Public Schools in 1974. He was the high school band director when the new Bellevue West High School opened in 1977 and later taught at Logan Fontenelle Middle School, Avery and Central Elementary Schools. He retired in 1996 and was a sales representative for Schmitt Music for several years.
is wife, Grace, reflecting on his life as a teacher said, "He loved students and loved to teach. He always produced excellent quality bands. Those who knew him knew the quality of character he had. He had a balance of discipline and humor – a hard medium to strike."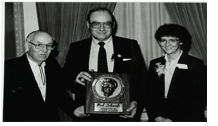 Schmidt was a member and former president of the Nebraska State Bandmasters Association, an inductee in the Nebraska Music Educators Hall of Fame, selected as a recipient of the Donald A. Lentz Outstanding Bandmaster Award in 1985 and in 1984 received the Outstanding Jazz Educator Award from the National Association of Jazz Educators. The photo on the right is Don Lentz presenting Rod the Lentz Award.
A student of Rod's, Chris Schuttler, the present director of band in Logan Fontenelle Middle School in Bellevue stated, "He was a fantastic mentor who always made time for you. I try to carry on the tradition of excellence that he set forth."
Jim Johnson, a close friend, reflecting on their friendship said, "Rod always had a very positive outlook on education and life in general. I will miss Rod as a dear friend and colleague." Ken Molzer, a college classmate of both Rod and Grace, enjoyed hearing him play trombone and seeing the influence of his teaching on students who excelled in their music endeavors. Ken said, "Rod truly was a gentleman, outstanding musician and exemplary teacher."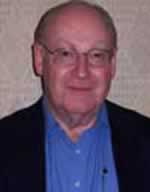 Rod was an outstanding jazz trombonist who played in several eastern Nebraska jazz groups and was a member of the Street Railway Dixieland Band entertaining in the Omaha area for many years. He was a sought after trombone instructor with many students benefiting from his expertise.
Rod was a member and past president of the Bellevue Rotary Club and was involved at Kountze Memorial Lutheran Church in Omaha. Article submitted by friends of Rod Schmidt, Jim Johnson and Ken Molzer.